Offer valid March 20 to April 2 only!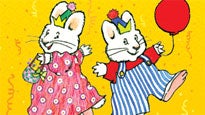 It's a surprise party for someone special, and bunny siblings Max and Ruby have a-million-and-one things to do before the exciting event! Who could the mystery guest be? Find out by joining Max and Ruby in this lively theatrical production that will have the whole family singing and hopping along!



Enter code SUPER via the link below to save $5 per ticket.
Offer valid online only and only from Sun, March 20 to Sat, April 2.
Tickets are $43.00, $35.00, $27.00, $23.00.
$5 off offer is valid on $27 and $23 tickets.
(Ticketing fees may apply)
Groups looking to buy more than 8 tickets please call 866-737-0805